Cultural Fire Program supports cultural burns
Tuesday 5 September 2023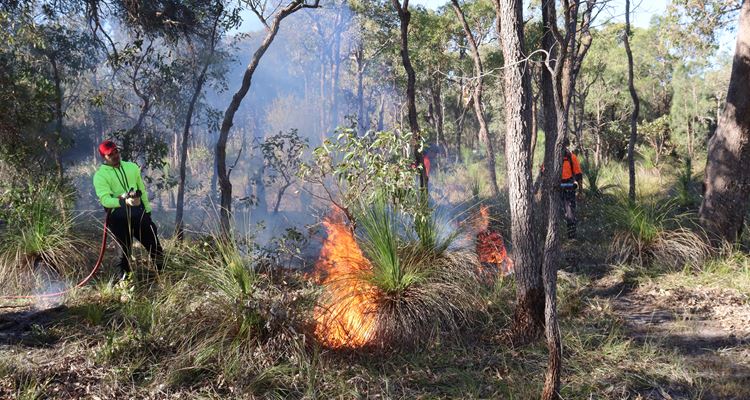 During Djeran (April/May) the Cultural Fire team at the DFES Bushfire Centre of Excellence (BCoE) supported two cultural burns following the first rains.
The Cultural Fire team together with the Kearing mob and the Bindjareb Rangers undertook a burn at Bindjareb Park to protect the Mia Mia (home) site, promote the regeneration of yoork (bush potato) and grow the burning skills of the Rangers. Combining traditional practices with contemporary techniques, they utilised a range of equipment, including leaf blowers, drip torches and rake hoes, alongside cultural burning methods.
This burn builds on similar work undertaken last year and showcases the strong relationship DFES and BCoE has with the Bindjareb community. In 2022 Djeran, wet weather conditions limited opportunities for effective fire in the landscape however, the Cultural Fire team used the time to provide training and development opportunities. The team demonstrated the burning of Balga (grass trees) and facilitated learning about burn area preparations, ignition strategies, fire behaviour and fire management. This training was well received and contributed to ongoing capacity building for the Bindjareb Rangers to take on similar work more autonomously and independently in the future.
Continuing the relationship with Uncle Eugene on Menang-Goreng Country in Nowanup, the BCoE team was invited to Country to support an important cultural burn aimed at achieving various cultural outcomes, such as the rejuvenation of native grasses, shrubs and bushtucker food sources like Purngep (ruby saltbush). The burn not only enhanced the ecological landscape but also provided valuable opportunities for training, capacity building and the exchange of knowledge between contemporary and traditional fire practitioners.