Emergency services on display at 2022 Bushfire Community Day
Friday 11 November 2022
The rain couldn't dampen the excitement at the Department of Fire and Emergency Services' (DFES) 2022 Bushfire Community Day on Sunday 23 October.
Watch our short video for a recap of the day.
It's the second time the free event has been hosted at the DFES Bushfire Centre of Excellence.
The event showcased volunteer and career first responders, interactive displays and information sessions, easy-to-understand safety demonstrations and plenty of opportunities for the community to learn how they can prepare for the bushfire season.
DFES Acting Executive Director Rural Fire Division Samantha Kennedy said there was something for everyone.
"This year we wanted people to get a glimpse behind the scenes of the Department," Acting Executive Director Kennedy said.
"We also wanted to showcase some of our partner agencies like the Australian Red Cross and WA Police who we work extremely closely with during emergencies."
The DFES Urban Search and Rescue Canine Unit was a crowd favourite, with the crew and their furry companions Rex and Ranger showing off their skills in a series of demonstrations.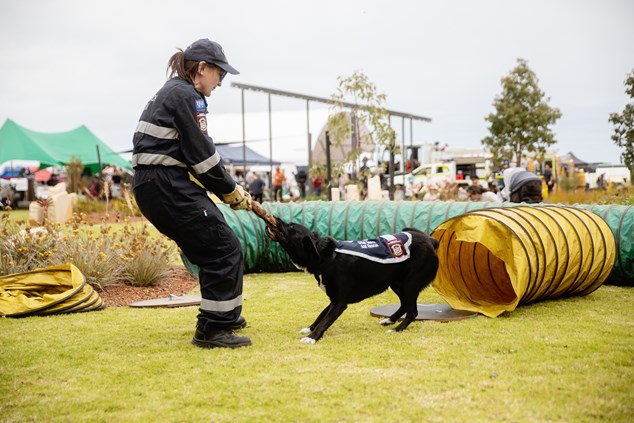 Director of The Forever Project Chris Ferreira was back for a second year, running engaging sessions with giveaways and useful tips about how to create a firewise home and garden.
Volunteers from West Murray Volunteer Bush Fire Brigade were also back to deliver their engaging burnover drill demonstration and serve up a delicious barbecue for visitors.
DFES' emergency services cadets, the RAC Rescue Helicopter simulator, fire trucks and more entertained visitors.
Further family-friendly activities included a firefighter obstacle course and dress-up photo booth, an animal farm, a rock-climbing wall and a dedicated kids' corner.
Over 120 kids' passports were also completed, encouraging children and their families to visit various stations for information and to collect a stamp to receive a prize.
Key exhibitors provided information on Animals in Emergencies, Volunteer Associations, virtual reality training technologies in action, lithium-ion batteries and more.
The Bushfire Preparedness booth was a one-stop-shop for Emergency WA, the new Australian Fire Danger Rating System, the Australian Warning System and creating a bushfire plan.
DFES Community Preparedness Advisors and Volunteer Bush Fire Ready Facilitators emphasised the importance of having a plan; distributing over 100 Bushfire Preparation Toolkits for people to complete at home.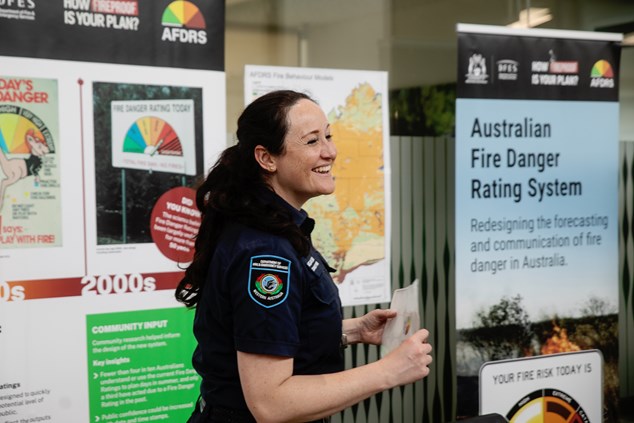 DFES Chief Superintendent Bushfire Centre of Excellence John Tillman AFSM thanked staff, volunteers, cadets, external agencies and suppliers for their contributions.
"We couldn't deliver the day without their support and involvement," Chief Superintendent Tillman said.
"Events like this are a key opportunity to interact with the community, impart knowledge and equip people with new skills and tools to use in their day-to-day lives.
"We have had lots of positive feedback and are already planning for 2023."
The DFES Bushfire Centre of Excellence is located in the Shire of Murray's Peel Business Park, just 45 minutes from the Perth CBD.
It opened in January 2021 and is dedicated to enhancing the capability of emergency responders through bushfire training, information and resources.
For more information, email BushfireCoE@dfes.wa.gov.au or visit dfes.wa.gov.au/bushfirecoe