Marine Rescue volunteers honoured for life-saving efforts at sea
Sunday 10 September 2023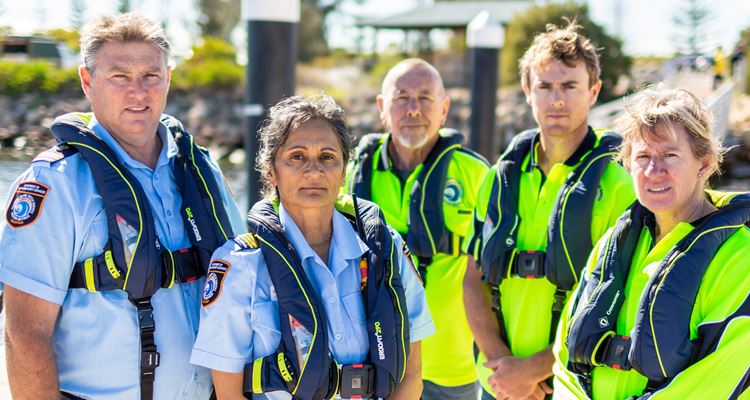 A team of volunteers who braved treacherous seas to save the crew of a capsized yacht have been celebrated at the 2023 Western Australia Fire and Emergency Services (WAFES) Awards.
Marine Rescue Jurien Bay received the Team Achievement Award for their bravery and perseverance during the mission, which unfolded off the Midwest coast in May 2022 following a 1am distress call.
The WAFES Awards honour the achievements of groups and individuals working and volunteering in WA's emergency services.
The incredible efforts of WA's Marine Rescue volunteers were recognised across three categories at the ceremony in Perth last night.
Commander Krisma May from Marine Rescue Broome won the Individual Achievement Award in a nod to her skills leading an all-female leadership team and her energetic approach to volunteer recruitment.
Commander May's efforts conducting welfare checks on residents impacted by the Kimberley flood crisis were also praised.

The Youth Achievement Award went to Marine Rescue Dampier in celebration of their efforts to recruit and train cadets.
The group has enthusiastically embraced the Youth in Emergency Services program and trains around 25 cadets each season.
Fire and Emergency Services Commissioner Darren Klemm AFSM said Marine Rescue groups had a challenging role, with more than 10,000km of coastline to cover in WA.
"WA's 39 Marine Rescue groups cover the State from Kununurra to Esperance," Commissioner Klemm said.
"Last financial year, Marine Rescue volunteers generously gave their own time to help at 1,755 incidents.
"This year's winners have displayed leadership, devotion and empathy and deserve recognition for the difference they've made across the State.
"I congratulate our award winners and extend my thanks to all Marine Rescue volunteers, who are at the forefront of our response to emergencies at sea."
The winners from the 2023 WAFES Awards in the Marine Rescue categories are:
Marine Rescue Youth Achievement Award
Marine Rescue Dampier
Champions of the Youth in Emergency Services (YES) program, Marine Rescue Dampier has created a welcoming and positive culture where young volunteers feel valued and empowered to make a difference. The group has developed a more complex and dynamic program in the past year, which is so popular there is now a waitlist to join.
Marine Rescue Individual Achievement Award
Krisma May, Marine Rescue Broome
Krisma heads an all-female leadership team that is committed to creating an inclusive and supportive culture. The face of Marine Rescue Broome's last two recruitment campaigns, Krisma has worked energetically to bring new volunteers into the fold. Her approach has been so successful that the group has had to stop taking applications. Krisma assisted with welfare checks on residents during the Kimberley floods and arranged transport and accommodation for emergency services personnel.
Marine Rescue Team Achievement Award
Marine Rescue Jurien Bay
Responding to an EPIRB activation off the Midwest coast, Marine Rescue Jurien Bay braved gale-force winds and dangerous swell to rescue three crew members of a yacht that had capsized eight miles from shore in the severe weather. Waves hit rescue vessel Crickey from multiple directions as skipper Mick Cockburn expertly manoeuvred close to the capsized yacht so Commander Chrissy Heu could throw a life ring to the last person onboard. The successful mission was underpinned by the crew's courage, calmness under pressure and extensive marine training.
For more information about the 2023 WAFES Awards visit dfes.wa.gov.au/wafesawards