Practical completion of the Department of Fire and Emergency Services (DFES) Bushfire Centre of Excellence (BCoE) has been celebrated with a formal ceremony on Monday 25 January 2021.
Western Australian Premier Mark McGowan MLA officially opened the building with a ribbon cutting ceremony and plaque reveal.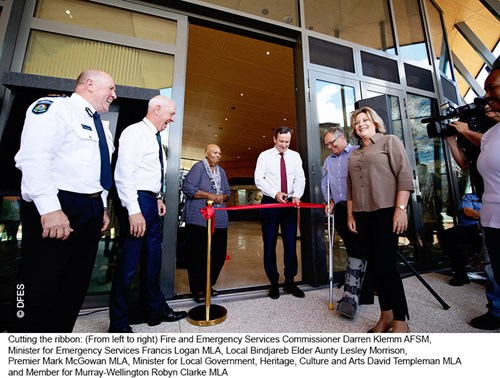 Fire and Emergency Services Commissioner Darren Klemm said DFES was proud to deliver the Western Australian Bushfire Centre of Excellence, a key opportunity that was identified in the Special Inquiry into the January 2016 Waroona Fire.
"The Bushfire Centre of Excellence will facilitate a greater understanding of bushfires than we've ever had before," Commissioner Klemm said. "We are all facing the challenge of a changing climate and the increased threat of bushfires to our livelihoods.
"The Centre will be an education hub where we can share our diverse ideas, knowledge, experiences and skills. This type of collaboration will be key to facing the challenges of the future.
"The local Bindjareb community has given the Centre the Nyungar name Karla Katitjin. Karla means fire and Katitjin symbolises knowledge and learning in a way that brings understanding."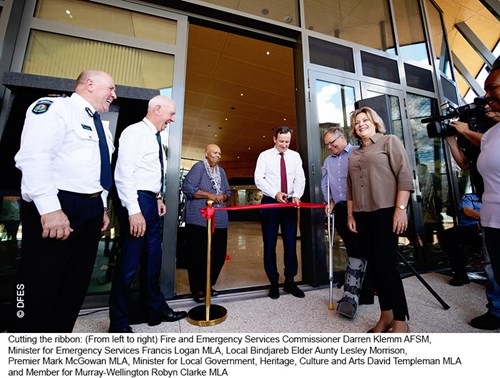 DFES Chief Superintendent Bushfire Centre of Excellence John Tillman said the opening ceremony was a momentous occasion.
"It is fantastic to see two years of engagement, planning and design culminate in the opening of this first-class facility," Chief Superintendent Tillman said.
"The Centre will be a leading facility in bushfire learning and skills development and will draw on the latest in technology, science, academic and traditional land practices. This will help us all to better protect our environment and communities from the impacts of bushfire.
"I would like to thank the Bindjareb community for their support and input throughout the Centre's journey, from design to completion."
Local Bindjareb Elder Aunty Lesley Morrison opened proceedings with a Welcome to Country which was followed by a traditional dance and smoking ceremony led by Traditional Owner Theo Kearing.
A traditional water blessing ceremony was performed by the Centre's Traditional and Cultural Fire Officer Clifton Bieundurry, using the purpose-built stone water feature located at the front entrance of the BCoE. The feature provides Aboriginal visitors with the opportunity to connect with Country upon arrival.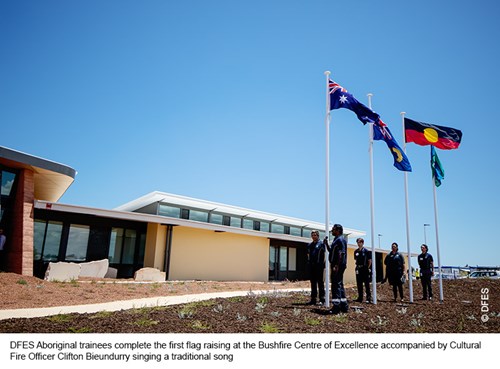 Following the ceremony, DFES Aboriginal trainees performed the first flag raising ceremony at the Centre.
The new facility is expected to be open for business from March 2021 featuring the first elements of an interpretive learning centre which include a visual timeline through the history of fire in WA.
The landscaping in time will reflect fire design guidelines, indigenous and local heritage and local vegetation.
This will provide both a tranquil and educational environment for visitors making use of the Centre's expansive outdoor areas.
The BCoE is the first building to be completed in the Peel Business Park, Nambeelup, which is set to become an innovative industry hub.
For more information visit dfes.wa.gov.au/bushfirecoe.