Sebastian's story of survival
Monday 3 October 2022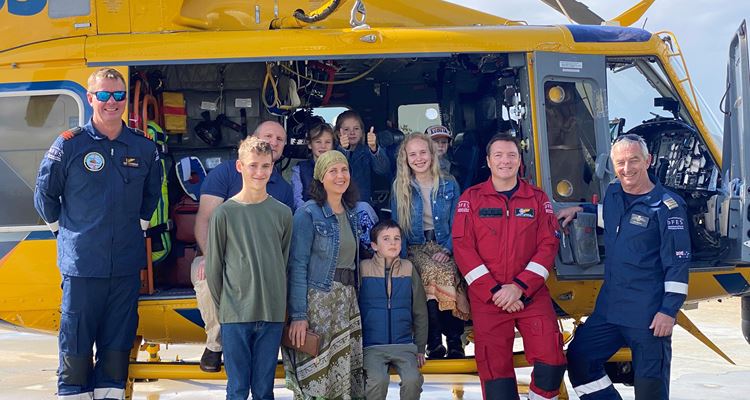 Sebastian had just celebrated his 10th birthday. The very next day he was fighting for life in a RAC Rescue helicopter after the unthinkable happened.
It was August 2021 and Gobbett family were the setting out on a bike ride near their home in Coondle, around 100 kilometres from Perth.
Sebastian was crossing the road when a four-wheel-drive came around the bend and collided with the little boy at 90km/h.
His injuries were significant, including a traumatic brain injury, torn and ruptured lung and fractures in his neck and spine.
His mum, Olivia, was first on scene. Olivia had worked as an emergency nurse and knew how critical time was.
"I was just praying for a miracle, and when that helicopter arrived, I knew we'd be okay, they would get us," she said.

RAC Rescue Critical Care Paramedic Hamish was one of the three flight crew who responded that day. Hamish provided intensive medical care at the scene and on the 30-minute flight to Perth Children's Hospital.
"We were able to deliver him to the surgeons and the specialists there in as best shape as we could," he said.

Over the past year, Sebastian has had to learn how to do everything again, including how to walk and talk.

"Sebastian doesn't have any recollection of what happened that day, but he does know it was the RAC Rescue helicopter and Hamish and his crew that saved his life that day. They're my heroes," said Olivia.

After four months in hospital, including three weeks on life support, Sebastian came home just before Christmas.
Almost one year on from his accident, Sebastian and his family reunited with the RAC Rescue crew who were part of his journey.
The crew of RAC Rescue have saved thousands of lives and helped returned loved one's home to family and friends. Thank you to the Pilots, Aircrew Officers, Critical Care Paramedics and DFES Aviation Services who keep this essential service in the sky.
Funded by the State Government, the RAC Rescue helicopters are managed by the Department of Fire and Emergency Services (DFES) and sponsored by RAC.