Western Australians urged to prepare for wild weather
Friday 11 June 2021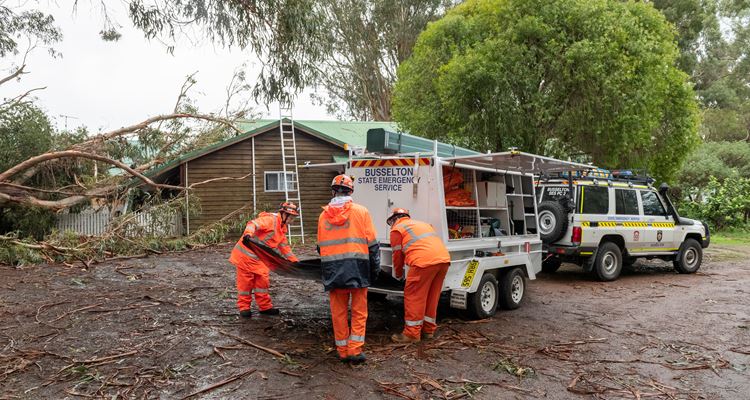 The Department of Fire and Emergency Services is urging the public to prepare their properties for severe weather, with winter now in full swing.
Two separate weather systems impacted the WA coast this week, causing heavy rainfall and damaging winds from Karratha to Walpole. 
Fire and Emergency Services Commissioner Darren Klemm AFSM said this type of weather would become more frequent in southern Western Australia over the coming months and it was vital people took the time to prepare their properties now.
"Storm damage is often preventable and many households underestimate the impact severe weather can have on their properties during winter," Commissioner Klemm said. 
"Preparation is the key to minimising any impact a storm can have on your home or your family.
"Cleaning gutters, clearing debris around the property, tying down loose items and trimming overhanging tree branches are simple ways to prepare a home for severe weather.
"Also have an emergency kit including a battery-operated radio, torch, spare batteries and first-aid kit – this could save precious time during an emergency."
Commissioner Klemm said State Emergency Service units had experienced a busy start to the year as a result of former Tropical Cyclone Seroja and it was important the public took steps to reduce the workload and impact on volunteers this winter. 
"Many of the requests for assistance volunteers receive could be prevented by taking a few simple steps around the home before a storm arrives," he said. 
"If your home is badly damaged during a storm and you are unable to safely fix it, call the SES on 132 500.
"Keep up-to-date by visiting emergency.wa.gov.au, calling 13 DFES, following DFES on Facebook and Twitter and listening to local radio and other news bulletins.
"And once the storm has passed, be aware of hazards such as falling trees or branches and downed powerlines."
Media Contact: DFES Media and Corporate Communications 9395 9543