Flying high for 20 years
Monday 14 August 2023
This month marks the 20th year of the Department of Fire and Emergency Services' Emergency Rescue Helicopter Service.
These State Government-funded helicopters deploy crews from Jandakot and Bunbury directly to an incident scene, where they can provide rapid, all-hazards rescue, aeromedical intervention and transport patients to hospital if needed.
Acting Deputy Commissioner Operations Command Graham Swift said the RAC Rescue helicopters have been a welcome sight to thousands of people, providing a lifeline in their time of greatest need.
"Whether it's a road crash rescue, an emergency out on the water or a critical situation in a hard-to-reach location, RAC Rescue is there to respond around the clock," he said.
"It has been especially vital in supporting our all-hazards response capability, in particular during the Kimberley floods earlier this year helping to safely relocate at-risk people from remote and isolated communities."
"I would like to thank the crew, both past and present, for their contribution to achieving a safer State."
Behind the service is a roster of more than 30 flight crew, alongside licenced aircraft maintenance engineers and support personnel.
Onboard each rescue helicopter is a Pilot, Aircrew Officer and a Critical Care Paramedic who can be airborne in less than 15 minutes of receiving a call.
Thanks to ongoing training and advancements in technology and medicine, the service has continued to evolve and the fleet is equipped with some of the most qualified personnel and the latest state-of-the-art rescue aeromedical equipment to back them up.
It has grown from one helicopter back in 2003, to a fleet of three. The second, Bunbury-based helicopter commenced in 2016, increasing the services' range across our vast State. A third, backup helicopter came online in 2018 and can be mobilised to support emergency operations.
Learn more about the evolution of the service from some of the crew, including former Aircrew Officer George Casey, in the video below. 
George Casey was one of the first flight crew and remained with the service for 17 years. He departed for new opportunities three years ago and is officially retiring this month.  
"Over the last 20 years, the helicopters have reached over 9,500 missions and that means thousands of people have been saved," George said.
"During that time, it's not just the helicopters' flight crews involved with the people who have found themselves in strife, but the first responders out in the country, the volunteer ambulance officers, volunteer firefighters and the police that attend the scene. We all work as one big team to get one result, and that's getting patients to the next level of care."
"For me, it's been an incredible 20 years of the service. A lot has changed, and a lot has grown through modernisation of rescue equipment and aeromedical equipment, and I can just see that as time goes on it will continue growing."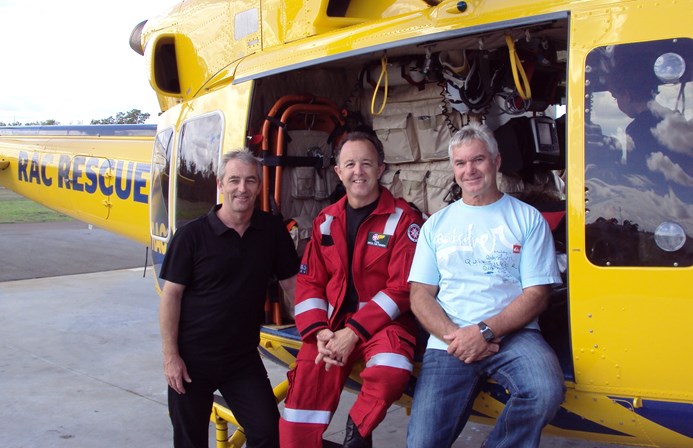 L-R: Andrew Greenall (Pilot), Paul Davies (Critical Care Paramedic) and George Casey (Aircrew Officer) pictured with the Jandakot helicopter in 2014. Andrew and Paul are still flying with the service today.  
To learn more about RAC Rescue, visit dfes.wa.gov.au/about-us/aviation-services
The RAC Rescue helicopters are sponsored by RAC, funded by the State Government and managed by DFES.