Applications open for lifesaving sponsorship
Tuesday 17 October 2023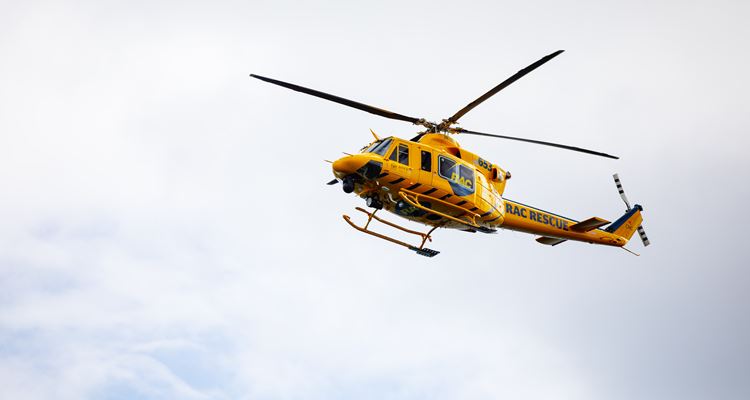 The Department of Fire and Emergency Services (DFES) is calling on community-minded organisations to apply to become the exclusive naming rights sponsor for Western Australia's three Emergency Rescue Helicopters.
Funded by the State Government and managed by DFES, the emergency rescue helicopters respond to calls for help 24 hours a day, every day of the year.
A suite of promotional opportunities will see the sponsor's name and brand become synonymous with a trusted service that has been saving lives in WA since 2003.
Two helicopters, launching from bases in Perth and Bunbury, operate around the clock to respond to a range of emergencies and traumatic events. A third helicopter is available to provide additional support, having been deployed for extended periods to help communities during both the Carnarvon and Kimberley floods.
Highly trained crews assist people injured in road crashes, conduct search and rescue missions on land and at sea and transfer seriously ill patients to medical facilities.
The free community service is due to upgrade its assets at the end of this year, with the introduction of three next-generation Leonardo AW139 rescue helicopters.
The new fleet will have an increased flight range and some of the most advanced aviation rescue technology available.

The State Government has invested $26.7 million in the upgrade which will see the fleet operate over 334,000 square kilometres, covering more than 91 per cent of the State's population.
Fire and Emergency Services Commissioner Darren Klemm AFSM said the service was designed and delivered to save lives and keep the community safe.
"DFES is proud to manage WA's only dedicated rescue helicopter service, responding to calls for help around the clock," Commissioner Klemm said.
"The Emergency Rescue Helicopter Service is capable of being airborne in less than 15 minutes and provides vital search and rescue capability and critical aeromedical services.
"Over the last 20 years the flight crew have assisted in saving thousands of lives and helped return loved one's home to family and friends.
"This is an outstanding opportunity for a community-focused organisation to join us in putting others first and working together to keep Western Australians safe."

Applications open on Tuesday 17 October 2023.
For more information about the opportunity, visit tenders.wa.gov.au.

Facts and figures:
Since 2003, the Emergency Rescue Helicopter Service has:
• Travelled 2,020,626 kilometres across Western Australia – equal to travelling around the world 50.4 times;
• Attended 4903 road crash rescues;
• Completed 994 search and rescues;
• Transported 6524 patients;
• Spent 22,370 hours on missions, equal to 2.55 years or 932 days non-stop in the air;
• Conducted 9575 missions.