Western Australians urged to prepare for cyclones
Monday 11 October 2021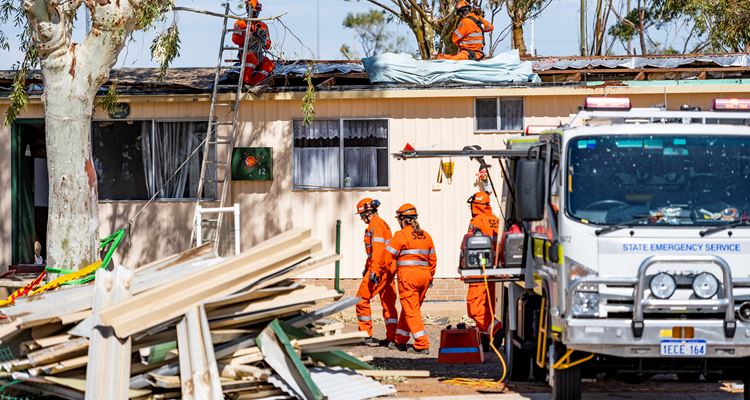 Western Australians are being urged to prepare for the upcoming wet season, with the Bureau of Meteorology today releasing its Tropical Cyclone Outlook for the 2021-22 season.
Warmer ocean temperatures and the increasing chance of a La Niña forming later this year have contributed to the Bureau predicting an earlier start and 'average to above average' number of cyclones this wet season, which extends from November to April.  
The average number of tropical cyclones per season across Australia is 11, which includes five near WA, of which two typically cross the coast.  
While the Bureau's Tropical Cyclone Outlook provides guidance about whether the season will be more or less active than normal, it only takes one system to significantly impact a community.
Tropical cyclones and tropical lows can cause significant impacts to property and lives bringing strong winds, heavy rainfall, flooding and storm surges.
The stretch of coastline between Broome and Exmouth in WA's north is the most cyclone-prone region in Australia, but cyclones can impact anywhere in the State.
Last cyclone season, four tropical cyclones and six significant tropical lows affected the west. Of these, three systems impacted the WA mainland, with Severe Tropical Cyclone Seroja and two tropical lows crossing the coast.
There were eight cyclones across the Australian region during the 2020/21 season.
Bureau of Meteorology's WA manager James Ashley said last cyclone season highlighted how important it was for all Western Australians, including those not in high-risk areas, to prepare.
"Seroja was very unusual in that it maintained its intensity as it travelled south out of the tropics, crossing the coast near Kalbarri with a maximum recorded wind gust of 170km/h," Mr Ashley said.
"Residents not used to cyclones faced a system that went on to cause further damage as it travelled inland before eventually losing cyclone strength seven days after being named.
"During the cyclone season the Bureau of Meteorology keeps a 24-hour watch on developing tropical weather systems and recent improvements to the Emergency WA website mean our cyclone track maps now sit alongside the Department of Fire and Emergency Services' community warnings in one central location."
Fire and Emergency Services Acting Commissioner Craig Waters AFSM said keeping safe was as simple as planning ahead, preparing your property and getting familiar with the cyclone warning system.
"The Emergency WA website has crucial information about what to do in an emergency and it also provides simple advice for preparing including how to inspect and maintain your home," Acting Commissioner Waters said.
"The North West is also a big draw card for tourists year-round and we remind travellers to have an emergency kit ready, stay up-to-date with weather forecasts and check the Emergency WA website regularly for alerts and warnings."
Acting Commissioner Waters said that as the community marked six months since Seroja's crossing, recovery and repairs were still ongoing so preparation for this cyclone season may look different in the Mid West.
"It is important to check your property because Seroja may have also loosened or damaged structural components. Impacted homeowners may also be eligible to access up to $20,000 for upgrades to help build back better," he said.
"We are also mindful about the emotional and physical toll of this event and encourage people to reach out to their local recovery centre for additional support. Your wellbeing comes first and your community is here to support you."
Summary of the Tropical Cyclone Seasonal Outlook for Western Australia:
~60% chance of an above average number of tropical cyclones in the North West Region (average is 5).
~65% chance of an above average number of tropical cyclones in Australia (average is 11, with fewer in recent decades)
Likelihood of around two coastal impacts.
Significant risk of at least one severe tropical cyclone coastal impact during the season.
More information:
Track map of all tropical cyclones and significant tropical lows that affected the Western Region during the 2020-21 Cyclone Season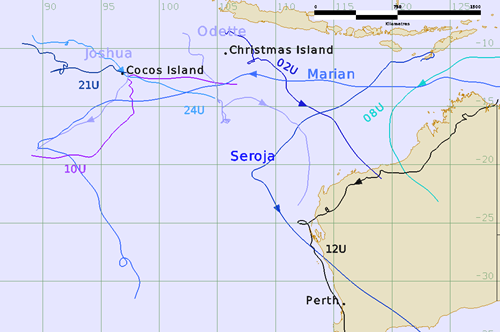 Media Contacts:
DFES Media and Corporate Communications 9395 9543
Bureau of Meteorology Media and Communications WA (08) 9263 2201