Over 80 volunteers from across WA visited the DFES Bushfire Centre of Excellence on Friday 10 September as part of the 2021 WA Fire and Emergency Services (WAFES) Conference.
The group included members from regional brigades, groups and units from as far as Derby in the north to Esperance in the south.
Chief Superintendent Bushfire Centre of Excellence John Tillman AFSM said it was a great opportunity to showcase the facility and promote it is a Centre for all volunteers.
"It was great to welcome such a big group of volunteers from all over WA."
"It is invaluable for us as a team to share our work and speak with volunteers one-on-one about how we can assist and support them.
"I hope that the group had an enjoyable day and that they encourage their fellow brigade members to visit the Centre."
Traditional and Cultural Fire Officer Clifton Bieundurry welcomed the group with an acknowledgement of Country and a demonstration of the traditional water blessing ceremony.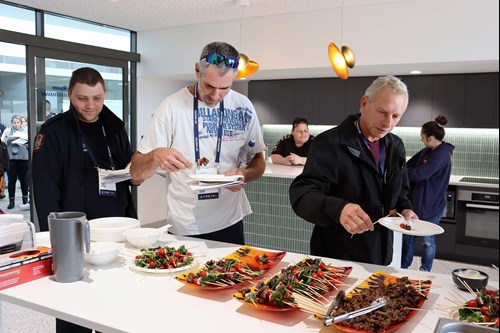 Chief Superintendent Tillman took the group for a tour through the bright, open spaces of the interior and into the outdoor areas before providing an overview of how the Centre was established and designed.
The group rotated through four interactive and engaging sessions to get a full understanding of the Centre's different functions.
This included a training program session where volunteers were invited to provide feedback about DFES training products and gained an insight into the Centre's new, dynamic and collaborative bushfire and planned burning training products.
A virtual reality experience got volunteers immersed in DFES' simulated training environments including a planned burn and structure fire.
The cultural burning session gave an overview of the Centre's focus on the cultural fire practices and traditional fire knowledge of Aboriginal Australians.
A practical session with the bushfire model showed how it can generate discussion about bushfire response, strategies and tactics in different scenarios.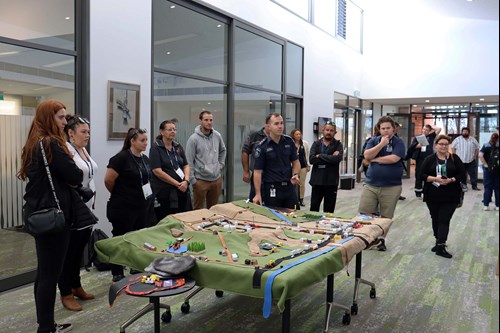 The model includes buildings, waterways, infrastructure, emergency response vehicles, aircraft and other items to simulate an environment and visually assess what would need to be considered and managed in a bushfire emergency.
In the final session volunteers got an insight into the Centre's products and resources and brainstormed what the Centre could develop in the future to help them in their response and community engagement roles.
The tour concluded with a delicious traditional bush tucker lunch prepared by the local Bindjareb Park community.
For more information or to arrange a visit to the Centre, email BushfireCoE@dfes.wa.gov.au or visit dfes.wa.gov.au/bushfirecoe