Wins for bushfire mitigation and pest eradication
Tuesday 16 May 2023
In late November 2022, a planned burn was conducted at our WA Fire and Emergency Services (WAFES) Academy and adjoining properties in the Forrestfield area.
Not only did this reduce bushfire risk and improve community safety in the area, but it also helped eradicate a type of ant deemed a pest of national significance.
The African black sugar ant or Lepisiota Incisa (LI) is believed to have originated from South Africa.
It is closely related to another invasive ant known as the browsing ant or Lepisiota Frauenfeldi (LF), which has been successfully eradicated in WA by the Department of Primary Industry and Regional Development (DPIRD).
Senior DPIRD Technical Officer and Biosecurity Inspector Vaniek Paille said the highly invasive LI, like its LF relative, had the ability to form super colonies by establishing interconnected nests with collaborative egg-laying queens.
"Lack of competition between each colony results in resources being shared and used to exponentially grow its populations, out-competing and displacing other native invertebrates – including but not limited to ants," Mr Paille said.
"Furthermore, capable of colonising a wide range of habitats, LI seems to be well suited to Australian conditions."
Due to its potential negative impacts on the environment and agricultural industries in Australia, the LI ant has been declared a "Pest of National Significance".
Small pockets of LI have been found in several Perth suburbs.
In 2020, the biggest LI infestation was found in Forrestfield, affecting 24 properties and covering approximately 100 hectares of industrial, commercial and protected native bushland.
DPIRD has been working to eradicate these ants for some time with limited success due to thick vegetation the size of the infestation.
A working group was formed with members from DPIRD, the Department of Fire and Emergency Service, the Department of Biodiversity, Conservation and Attractions, Main Roads WA and Western Power.
After extensive research and planning, it was decided that conducting a low-intensity burn across multiple properties including the WAFES Academy, Western Power's Forrestfield Depot and the road reserve on Roe Highway, would be the best treatment option for the eradication of the ants as well as management of bushfire risk.
A burn plan was developed by the DFES Bushfire Risk Management branch and the burn was managed and executed by DFES Rural Fire Division staff, with the assistance of the Volunteer Bushfire Service and the Volunteer Fire and Rescue Service.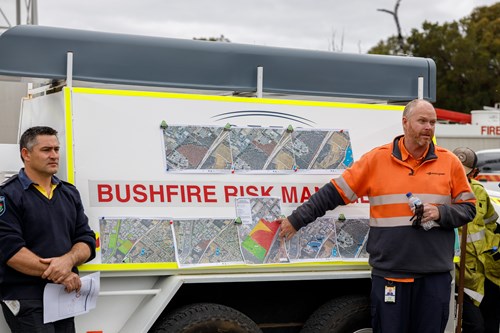 The burn was a great success and DPIRD is continuing to monitor the ants. Vegetation at these sites will also continue to be managed.
For more information, email ruralfire@dfes.wa.gov.au